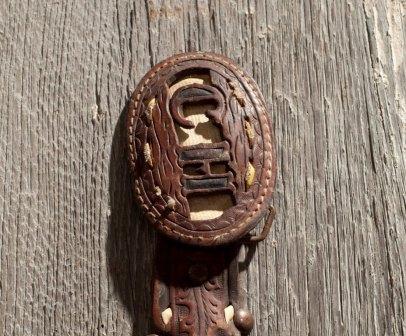 Friday, May 25, 5-8 pm–Artist Opening Reception
We're excited to present our next artist, Chad Hines.  We were introduced to Mr. Hines' work by our friend Gail Allard, owner of Salado Glassworks.  Like our wine, Mr. Hines is a local artist.  Plus, seeing as he is head of the Visual Arts Program at Central Texas College, he will most likely make our walls look outstanding.  We are excited to feature his art and we think you'll find his art to be quite eye-catching, colorful and very different from the other art galleries in Salado.
According to Chad Hines:
"For me, art is a form of self-discipline, therapy and self-analysis. Art has provided new ways of investigating both the physical and metaphysical worlds. The act of creation allows me to enter a Zen-like realm in which I am a traveler within my own mind, free to discover and explore. The journey is a way to not only heighten my skills but to hone my individualized philosophy and strengthen my personal vision and existence.
Line and expression are two key components of my work. I feel that a line is much like a groove in a vinyl record; all of the thoughts and feelings of the individual are expressed with each mark. Each line is a catalogue of information as well as a diary of the voyages in life. I record the imagery with energetic and vigorous marks using a mixture of media and techniques. At times I work back into the piece, balancing the spontaneous act with rational thought. The marking and imagery contained in my works are physical responses to the mental journeys.
My work combines iconic and personal references with the surprise of design and content, presented through a juxtaposition of images and shapes. Each piece is created by pooling my artistic skills and knowledge and incorporating both traditional and non-traditional skills and materials, such as carpentry, construction techniques and flooring remnants, industrial materials and coatings. The overall use of an intuitive process allows the imagery and structures to grow from unplanned responses and provides the most formative degree in fulfilling my personal expression."
After graduating in 1998 from Temple High School in Temple, Texas, Chad Hines enrolled in Temple College where he was awarded an Associate of Arts degree in 2003. He was awarded a Bachelor of Fine Arts degree in 2006 from the University of Mary Hardin-Baylor in Belton, Texas. On October 27, 2007, he married.  He then entered the Graduate program of the School of Art at Stephen F. Austin State University where he received his Master of Arts in December 2008 and a Master of Fine Arts in December 2009. He has taught college art courses at Stephen F. Austin State University in Nacogdoches, Texas, McLennan Community College in Waco, Texas and University of Mary Hardin-Baylor in Belton, Texas. In 2010, he was hired by Central Texas College in Killeen, Texas as the head of the Visual Arts Program and Gallery Coordinator for campus visual art exhibitions. He lives in Temple, Texas with his wife and his daughter.
This show continues throught October 5, 2012.
https://saladowinery.com/wp-content/uploads/2016/08/HeaderLogo_Color-1.png
0
0
June
https://saladowinery.com/wp-content/uploads/2016/08/HeaderLogo_Color-1.png
June
2012-05-05 02:12:28
2012-05-05 02:12:28
Chad Hines–Kolligosset