#DocumentSalado Art Opening Reception by Jessica Flynn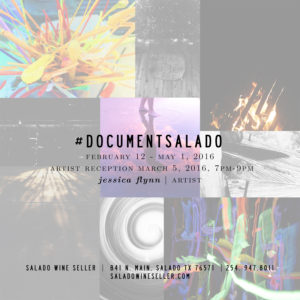 Artist Reception, Saturday March 6, 7-9 pm
Dear Salado [And by "Salado", I mean the wildly odd and wonderful people I've come to know and love here],
I love that Thoreau says "it's not what you look at that matters, it's what you see." How I see is the greatest strength I bring to the work that I do. This also means it's the biggest strength I can offer to our community. The 365 images that make up #documentsalado are a glimpse of how I see you, Salado. From the light to the art to the construction mess to the everyday views of local characters, this is what caught  my eye as I did real life in our little Village over the past year.
Each image was shot from an iPhone [No big cameras! That was my one rule. That and actually start and finish 365 images] then tagged and posted on social media so others could contribute as well. You can view the original project by following @jessijflynn on instagram or by searching the #documentsalado hashtag. 
Completing this project has inspired a few other pieces as well. I hope you'll come see and consider them. When you do, since this is a community centric project, I'd love for you to continue to be a part of it. Here's how:
Bring me something broken – humorous, significant, ironic, whateverrrrrr, just bring it. I'm going to collect it over the course of the show at Salado Wine Seller, break it some more and make another art piece out of our collective brokenness at the 2016 Edgy Art Show this coming spring. Especially at this point in our community's story, it could do us all good to see something beautiful come from broken, chaotic, worn out, seemly random sh*t. Couldn't hurt to try, right? Let's just see what happens….
Many Thanks, Good People. Much Love. Hell Yeah.
https://saladowinery.com/wp-content/uploads/2016/08/HeaderLogo_Color-1.png
0
0
June
https://saladowinery.com/wp-content/uploads/2016/08/HeaderLogo_Color-1.png
June
2016-01-22 01:36:12
2016-01-22 01:36:12
#DocumentSalado Art Opening Reception by Jessica Flynn