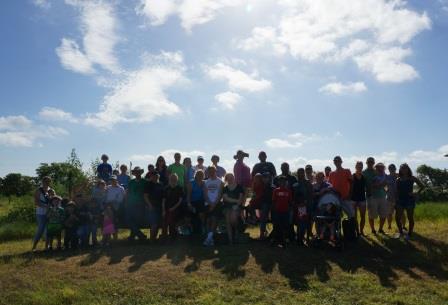 The harvest season is already half over and our plans have changed some.  The chardonnay and the sangiovese was harvested July 30th.  The merlot harvest has been pushed back to August 13 and the Cabernet Sauvignon might be ready before Thanksgiving!
Here is the plan as of August 1, 2016.
How to Get There
The vineyard is at 21724 Hill Road, Salado, TX, 76571. Exit 279 off I-35 and we're just a quarter-mile up Hill Road on the East side of I-35. The vineyard is on the right side of Hill Road. You'll see the vines from the road!
What to Bring
We will start bright and early at 7 am and go until all the grapes are picked, usually before noon. Wear comfortable, cool clothing. You'll want to bring a hat, sunscreen, bug spray, and lots of water to start with. We'll provide everything else you need, including more cold water. If you have a favorite pair of pruners feel free to bring them, but we'll have plenty for you. We recommend tennis shoes because sometimes there is stinging nettle or a hidden ant mound but you can wear sandals if you like.  Sometimes folks like to wear light cotton gloves to protect their manicure or help prevent wasp stings, but there are no thorns on grape vines. Harvest is family friendly, so feel free to bring the kiddos…Dino has been picking grapes since he was 1!
The After Party
After harvest in the morning, you can join us at the winery to watch grape processing. Our grapes will be de-stemmed and crushed using a machine then the chardonnay will be pressed and red grapes will be prepared for fermentation.
RSVP
If you're coming, text your RSVP to 254.466.5813 or RSVP on the Facebook event pages (links below), and we'll let you know if the plan changes.  Otherwise, see you there!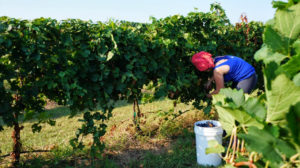 Harvest Day 2
Saturday, August 13 from 7 am – 10 am
Merlot (probably) grapes
Sign up online here so we know how many people to expect and invite your friends!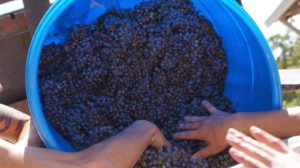 Harvest Days 3
DATE TBD
Cabernet Sauvignon 
Check out our Facebook page for details on our last two grape varietals to be picked! It will likely be Saturday, August 20th or 27th.
https://saladowinery.com/wp-content/uploads/2016/08/harvest-2016.jpg
305
448
June
https://saladowinery.com/wp-content/uploads/2016/08/HeaderLogo_Color-1.png
June
2016-08-01 17:49:56
2017-01-21 17:02:05
Harvest 2016–UPDATED!