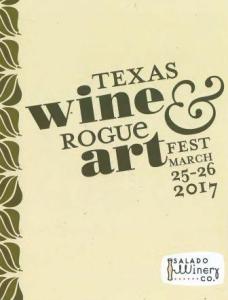 9th Annual Texas Wine & Rogue Art Fest  
WHERE: Salado Winery Co. & Salado Wine Seller, 841 N. Main Street, Salado, TX 76571
WHEN:   12-5 p.m. Saturday, March 25 and 12-4 p.m. Sunday, March 26
CONTACT: (254) 947-8011 or june@saladowine.com
SALADO, TX – Enjoy wine, food, art, and the outdoors during the weekend of Saturday, March 25 and Sunday, March 26, 2017. You'll find the charming Village of Salado filled with folks sipping wine, browsing art and nibbling on food at the 9th annual Texas Wine and Rogue Art Fest, the best wine festival between Austin and Grapevine.
The folks at Salado Winery Co. dreamed up the festival ten years ago as a way to showcase not only Texas wines but also local, unique artists. June Ritterbusch, owner and winemaker, explains, "We are always searching for unusual artists and this year we have found some. These Texas wineries are rogue entrepreneurs as well, and I think all the wine and art folks are going to create a great experience."
The 2017 festival will include wineries and vineyards pouring nearly 100 different Texas wines.  The festival will feature wineries from all across the state, including Florence, Waco, Fredericksburg, Marble Falls, Hye, Pittsburgh and Lubbock.  Wines vary from dry Mouvèdre Rosés and Texas favorites such as Tempranillo and Malbec to sweet peach wine and muscato. Some of your current picks like Fiesta and Chisholm Trail will be there and you may even find a fresh favorite in newcomers like Silver Dollar Winery or Kissing Tree Vineyard!
Artists from across the state will set up shop at the festival selling handmade items. You can find anything from hand carved wooden pens to gemstone wine stoppers to welded horseshoe art. Some artists and vendors have been attending the festival for nine years, while new ones continue to sign up each year. Every year's festival has its own unique set of gifts and art.
If you're hungry, the festival will feature several food trucks, including delicious wood-fired pizza by local favorite Fire Street Pizza, whimsically named pork sandwiches by at Hog Heaven, tacos by Salado native El Paisa #2, and snow cones (including wine-flavored ones for adults) by Southern Belle Ice House. Plenty of Texas food vendors like AustiNuts and Spicewood Food Company bring snacks, treats, and wonderful food that can be enjoyed at the festival or taken home with you.
The full list of artists, food vendors, and wineries will be available at www.saladowinefestival.com.
The festival will be held on the grounds of Salado Winery Co. & Salado Wine Seller at 841 N. Main St., Salado, rain or shine. Families are welcome! There will be plenty of kid-friendly space to run around, including Salado Winery's cellar door sandbox. Well-behaved pets on leashes are allowed.  Admission is free and $10 buys six wine tasting tickets and souvenir glass, with additional tasting tickets available to purchase.
https://saladowinery.com/wp-content/uploads/2017/02/postcard.jpg
300
228
June
https://saladowinery.com/wp-content/uploads/2016/08/HeaderLogo_Color-1.png
June
2017-01-03 17:23:25
2017-04-16 21:04:48
9th Annual Texas Wine & Rogue Art Fest